Los Angeles Urban League Young Professionals Presents Dress To The Nines | Fundraising Gala |
Whitney M. Young Gala After Party and Awards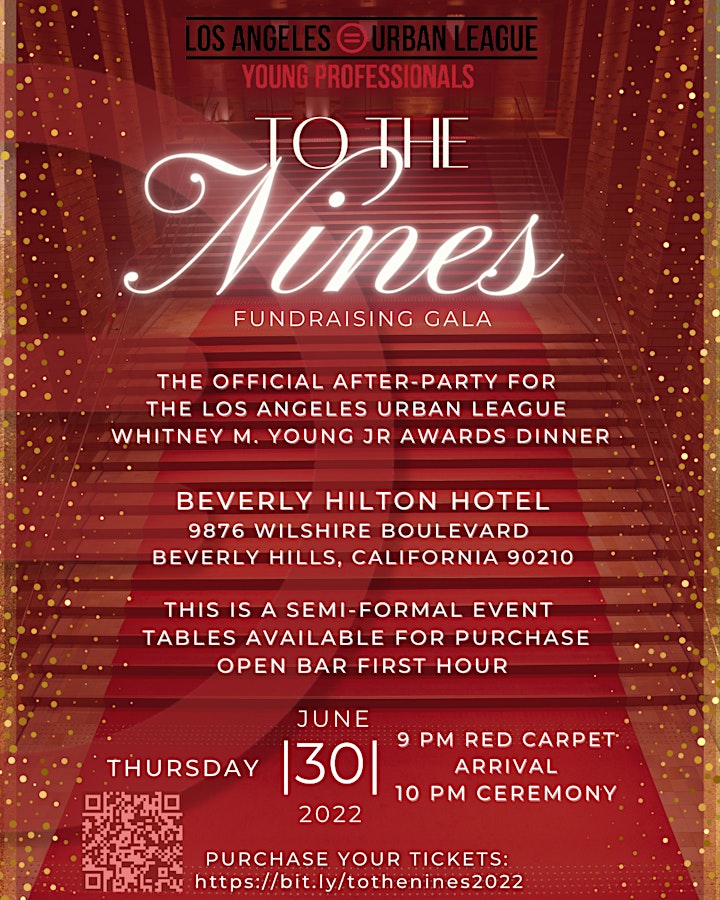 Join us and step out for LAULYP's best-dressed event "Dress To The Nines" where LA's most stylish and successful young professionals meet for a night of celebration and walk the red carpet. There will be plenty of music, dancing, and great photos!
We will be honoring influential people within our community that are helping us bring awareness to the movement.
2022 Honorees:
Erin Nicole Jordan – Paramount Pictures Community Builder
Justin Key – Actor, author, DEI Facilitator, and Entrepreneur
Kiara Iman – Attorney, Author, and Radio Host
Michael Nelder Henderson III – Poet, an author, an entrepreneur, and a speaker
Nicole Ford – Founder of Stepping in the Right Direction and California HBCU Alumni Alliance
Charity Chandler– Social Justice Advocate and CEO of CASA
Randi Matthews – CEO and Founder of Multi-Hyphen Media
Light hors d'oeuvres and alcohol will be served! Must be 21+ to drink.
The night will be filled with music, celebration, and fellowship.
Why give to the movement?
In today's social climate, it is more important than ever before that we support groups like the Los Angeles Urban League Young Professionals (LAULYP) who are committed to the movement of social change, justice, community activism, and affecting change in the lives of L.A.'s residential and business communities.
All funds raised by LAULYP are funneled directly into our life-changing programs which include scholarships, the development of young professionals in their careers to guarantee an upward trajectory, entrepreneurship training, community outreach programs, and more.
Your contributions are much appreciated!
All tickets are nonrefundable.